Some random thoughts during what has become an exciting week for the Illini…
First and foremost, after several years of watching the team treat Bruce Weber with something between indifference and disdain, it is awfully encouraging to see these young guys respond to Coach Groce. The enthusiasm and effort are there, so far.
So much of defense and rebounding is effort, and effort is a direct result of buying into what the coach is saying. If you had the pleasure of watching the USC thrashing, you saw a team that was clearly giving max effort on defense, and dominated the glass. However…
Turnovers are going to be a big issue if they continue at this pace. I had previously mentioned the ugly amount in the exhibition game, and 20 more against USC is the only thing to pick on. Tracy Abrams was credited with 8 of the 20, and that's just not going to fly in conference play.
Anyone who knows me well can vouch for my affinity for Bill Self. I'm not one of these Illini fans who hold him in contempt for taking a better job and more cash. That said, my John Groce man crush is growing at an uncomfortable rate. They're fun to watch; Will Leitch (@williamfleitch) spoke for Illini Nation during the USC game, when he accurately stated that the first 11 minutes of that game were the most enjoyable we've had in seven years.
I have seen the 2013 recruiting class ranked anywhere between 10 and 25 nationally. Regardless, a complete class* with some Simeon love was crucial, and Groce made it happen. Lastly, it looks like there are expectations this year. The 3-19-13 bracelet Groce is sporting (TNT Bracelet) is the date the 2013 NCAA Tournament begins. It would be easy for the coach to check out on the guys he didn't recruit, but instead there appears to be a culture of accountability, and a goal to make a tournament that most didn't think was a possibility a few weeks ago.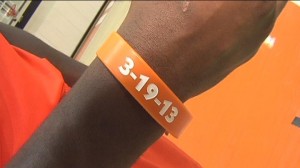 *Malcolm Hill, the ESPN100 guard from Belleville East, is in my neck of the woods. I watched him play live once last year, and hope to give a first person account later this year.
Nnanna has some range. The ESPN crew mentioned how hard he worked on his shot over the summer. Let's hope he doesn't develop too quickly though, as the morons who populate NBA front offices love to speculate on bigs with high ceilings. I would like to see at least one more year of Egwu development.
A quick pat on the back for me, as Brandon Paul is averaging 21.3 PPG and is shooting it 48% from three. Not saying he's going to be a star in the NBA, but picturing him as the first guard off the bench, providing some instant offense next year is not a huge leap of faith anymore… As a unit, the Illini guards are an underrated bunch. You could do a lot worse than Paul, Richardson and Abrams giving you 90 minutes a game.
This space will mostly be dedicated to hoops, but football has been front and center in the Big Ten this week. The knee-jerk reaction to adding Maryland and Rutgers is that a fledgling football conference is adding two football lightweights. We all know money makes the world go round though, and getting out in front of the inevitable 16 team super conference format while gaining a presence in the New York and D.C. markets can be nothing but good for the conference.
I have family who lives in Indiana, including cousins who attended IU. A Season on the Brink is among my favorite books. I'm a Cardinal fan who actually thinks the Cubs being good would be a great thing, so my opinion might not fall in line with most Illini faithful, but I couldn't be happier that Indiana is relevant again. In the same respect that college football is better when Alabama is good, golf is better when Tiger Woods is in contention… Whatever parallel you want to draw, college basketball is better when Indiana is good.
Feel free to email me at jeffreyrthomason@gmail.com. Twitter: @jefft24