Sergio McClain Illini Career
6.6 ppg. 4.0 rpg. An assist to turnover ratio of almost 1:1 (308 assists: 296 turnovers).  39% career field goals, 28% from three, 58% from the stripe. When deciding to dip into the history of the program for a topic, these career numbers hardly lead one to picture a player worthy of further research. That is of course before you attach the numbers to the man: Sergio McClain.
The term "March Madness" is almost universally known as the informal name of the annual NCAA Men's Division I Basketball Tournament. We all know it as the annual event where $20 is thrown in the office pool, and someone's wife or child picks the winning bracket based on favorite colors or names.
If you're a hard core Illini fan, the term might make you think of the near misses in 1989 and 2005 for a program that can be argued as the most decorated ever to never win the title. What you probably don't know is the term was first coined in 1939, here in Illinois, to describe the annual tournament that decides the state high school basketball champion.
Indiana gets all of the basketball love, deservingly so due to their long history of success, and undeservingly from the movie Hoosiers. That movie, without the cute and rube-like nickname, could have just as easily been set in any part of this state, at almost any time in history.
In any event, this state can proudly hold its hoop history against any in the country, and it would be easy to argue that Sergio McClain has the most accomplished hoop resume in the history of this state.
Sergio McClain in High School
While at Peoria Manual in the mid 1990's, Sergio McClain was part of an unprecedented four consecutive state titles, and in 1997 was named Illinois Mr. Basketball. Sergio, along with Manual and eventual Illini teammate Marcus Griffin, went an absurd 16-0 in state tournament games.
While I have credited Richard Keene in a prior post for opening the recruiting floodgates after NCAA sanctions, Sergio took it to the next level. Including McClain, the next four Mr. Basketball recipients who attended college would attend the U of I.*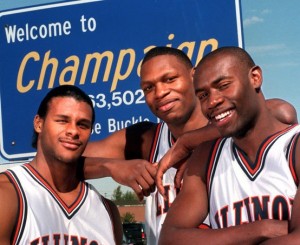 *Kevin Garnett and Ronnie Fields, both of Farragut Academy in Chicago, never stepped foot on a college campus. Frank Williams, Brian Cook and Dee Brown followed McClain to Illinois.
While at Illinois, Sergio McClain, along with the personal stats listed above, was part of teams that went 86-46, culminating in an Elite Eight appearance in 2001, Bill Self's first season at the helm…
While watching Michigan State play Indiana on CBS on Sunday, there was a phrase used about an Indiana player: "There are players you win with, and players you win because of." What a perfect way to describe the play of Sergio McClain. Sergio McClain was a guy whose teams won because of him, not just with him.
Sure, the numbers aren't going to blow anyone away, but when you're in a starting lineup with Frank Williams, Cory Bradford, Brian Cook and Marcus Griffin, there is a serious need for a "glue guy". The guy who defends the other team's best perimeter player; the guy who doesn't need the ball in his hands to be a valuable part of the offense.
At 6'4", 230 pounds, Sergio McClain was able to play the four in a small lineup, and as the son of a coach and proven winner, had the basketball acumen to initiate the offense with two guards who looked to get theirs first. Built like an NFL player, Sergio McClain was propositioned by Ron Turner to contribute to the football program. This, while it adds to the point I'm trying to make, might just be an indictment on the football program during Turner's time at Illinois.
After college, Sergio McClain had brief stints in the ABA, and the NBA D-League. He also spent some time as the head coach at Parkland College, following in the coaching footsteps of his father, Wayne. When John Groce was hired, there was some sentiment that Groce needed to hire an "Illinois Guy" for his staff.
I personally don't have any gripe with what Coach Groce has done to this point, and have no idea what Sergio is currently up to. However, in the event he is available and interested, I'm betting the program couldn't do much better than to bring Sergio McClain back home.
Voted one of the "100 Legends of the IHSA Boys Basketball Tournament", Sergio McClain started 81 games at the U of I, and was part of five NCAA Tournament victories. As part of the "Peoria 3", he was a vital part of the revitalization of the program, and is an Illinois basketball legend in high school and college. I can't think of any player who has put together as impressive of an eight year resume in the history of Illinois hoops.
If there is any other past Illini player, whether great or just interesting, that you'd like to hear more about, feel free to email me at jeffreyrthomason@gmail.com. Twitter: @jefft24.